She grew up in a brothel.
She was recently rescued from a living hell in the heart of Kolkata, India.
[Can we just let the weight of these words sink deep? Children in bondage. There are thousands and thousands of girls and women still trapped right now in this life and we have to stop and acknowledge this sad truth even when it's easier to skip over it.]
In her first months of freedom, safe with one of our Fair Trade Friday partners, she chopped off her long hair so she would feel ugly.
The blunt hairstyle was a harsh warning to any man who might dare to touch her again. "I don't ever want a man to look at me again," she said. This is how she protected herself from being hurt again.
Freedom Firm rescues and then restores. And they do that through dignified work.
We saw the miracle of self-respect grow almost before our eyes, as women realized they had made something worthwhile that people actually wanted. For the first time they had a skill. The joy and dignity experienced by the women in that moment birthed in us a great desire to make business a foundation stone in the rebuilding of the women's lives," -Freedom Firm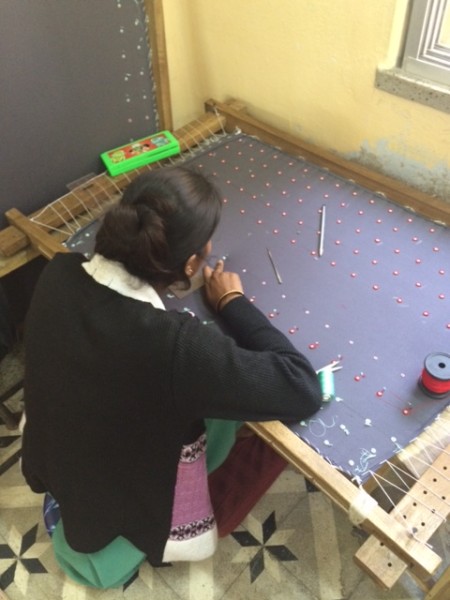 One of my friends visited the workshop in India (and sent me pictures of the 1000 pairs of embroidered earrings that are going to our June members…you should totally sign up) and met the girl with the chopped off hair.
She was a little defiant. A lot broken. And who could blame her. The world had used her over and over again.
She was also the most talented artisan in the room. She was sitting at a loom embroidering onto silk. In and out, over and through, quickly and accurately, recreating the pattern over and over. My friend walked over and asked if she knew she was embroidering words.
Words in a language you don't speak look just like shapes and patterns.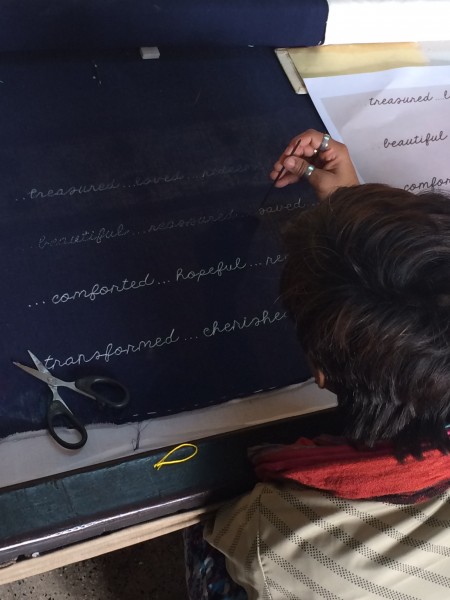 \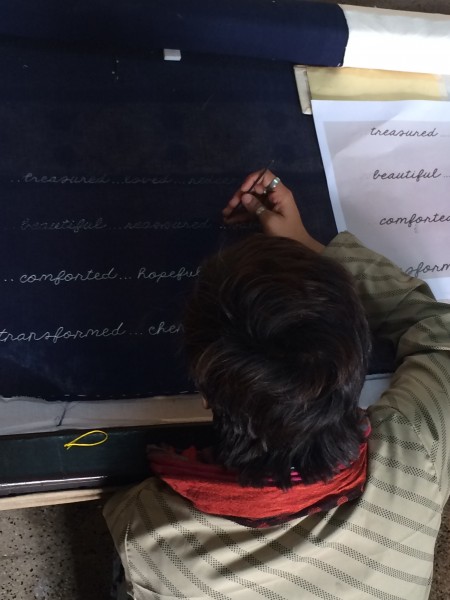 Tell her the words she is sewing. Tell her.
And so they read the words to her. Over her.
Treasured.
Loved.
Redeemed.
Beautiful.
Reassured.
Saved.
Comforted.
Hopeful.
Rescued.
Transformed.
Cherished.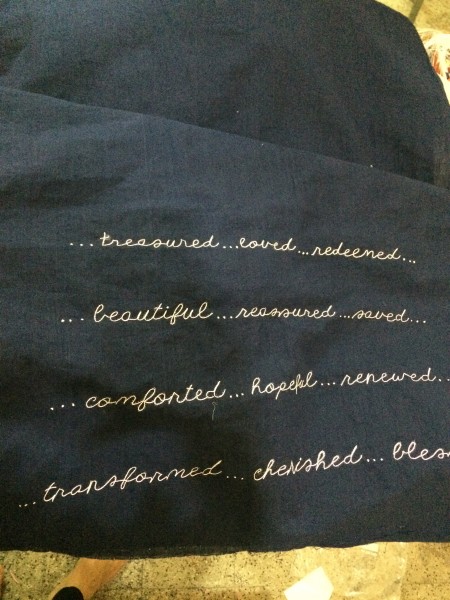 An angry girl sewing words all day long about how God sees her? Priceless.
Tell her this is how God feels about her.
She put her hands over her face and smiled.
They are the same words God whispers over us in our darkest, loneliest moments, "Beloved, you are mine. I see you. I have not forgotten."
I used to get mad at God when I heard stories like this one. God, how can you allow suffering like this? Where were you when she was being abused again and again?"
But then one day, He answered.
I was there with her in the middle of her hell. I never left her for a moment.
Every woman everywhere deserves to know that she is loved and valued by the God who created her. She is priceless like a treasured pearl. She isn't a commodity to be bought and sold, but she has been paid for by the precious blood of Jesus.
Tell her she is priceless. It's the goal of the dozens and dozens of ministries we work with who work to remind women of this truth.
Today, we are joining our hands around the world–from Freeset and JoyCorbs in India to Beauty for Ashes and Caring for Korah in Africa.
We are linking arms with Beauty for Ashes Uganda who is providing hope and healing to thousands of women–providing business training, start up gardens, mosquito nets, school fees for their thousands of kids-turning Uganda upside down with dignity and hope for the most oppressed.
We are linking arms with JoyCorps, creators of some of our favorite products, woven by lepers, block printed by families, sewn together by women who are grateful for the jobs. I have had aching conversations that have left me on my knees with their founder who was forced to leave her beloved India with her family. I have heard her trembling voice tell me of artisans who have stood up in the face of danger and violence and said, I will follow Jesus.
We are linking arms with Caring for Korah, in the dump of Ethiopia, as the country endures a desperate drought and I have watched hundreds of homes precariously situated in the city dump destroyed. I have visited these women's homes with my own daughter and I have wept at their plight and begged God to help us empower them.
We are donning our pearls, taking selfies, giving sacrificially and standing up to say we see these injustices, these broken-hearted women who have chopped off their hair so the brokenness inside will match the outside.
Will you please join with us today–May 10th, 2016 and read these words over women around the globe? Will you give to one of the organizations we are partnering with–working in hard places, with the most vulnerable?
Will you please join with us today and boldly declare with your time and resources we see you and we are here to say, you are not alone. He is with you.
Because you are priceless.
So is she.